Level 2
The Market Depth monitoring application, commonly known as Level2 or Order Book, is an essential tool for trading in the ECN environment. This tool displays indicative prices and enables Forex traders to see the Best Bid and the Best Ask along with their volumes so that they could adjust their strategy and make an informed decision when opening a position.  
The DAB parameters may be insufficient especially with regard to high-frequency trading. The information based on the difference between the best BID and the best ASK (the DAB) may be unsatisfactory as BestBid and BestAsk charts may show lower volumes than expected therefore, consulting the Market Depth (Order Book) data is recommended. 
The Order Book displays liquidity of external Liquidity Providers and Limit Orders, belonging to the traders of an internal system. The information, provided by the Order Book, is especially important in large-volume trading when it is required to estimate the approximate price levels for order execution or to obtain statistics on a financial instrument's selling pressure or buying support during price movements.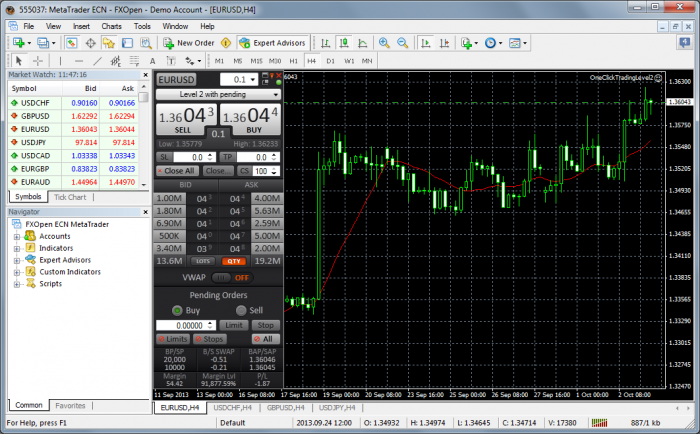 Market Depth (Level 2)
When using the Level2 application, a trader may be misled by fake or "ghosts" orders. These orders are deliberately set by dishonest traders who resort to the "ghost" strategy in attempt to deceive or confuse other market participants, generating a false perception of price movements. They benefit from other traders' errors who may then incur huge losses in such cases.
Read more about "ghost" orders:
Level 2 is also as a basis to develop such an application as OCTL2 plugin to improve the process of trading in the MT4 plarform.